Most of these stories really test the endurance of lovers of Norse mythology
The stories in Norse mythology are more or less violent, cruel and sometimes extremely bloody. This is no longer too difficult to understand, because it partly reflects the life and society of the Vikings.
Loki is chained to a rock with his son's intestines
After causing Baldur's death, Loki was hunted down by the god. They captured and imprisoned the rogue god in a cave. They then find Loki's two sons, Vali and Narfi. Odin turned Vali into a wolf, then let the wolf tear Narfi to pieces. Next, the god took Narfi's intestines and used magic to turn it into iron chains, in order to tie Loki in the cave.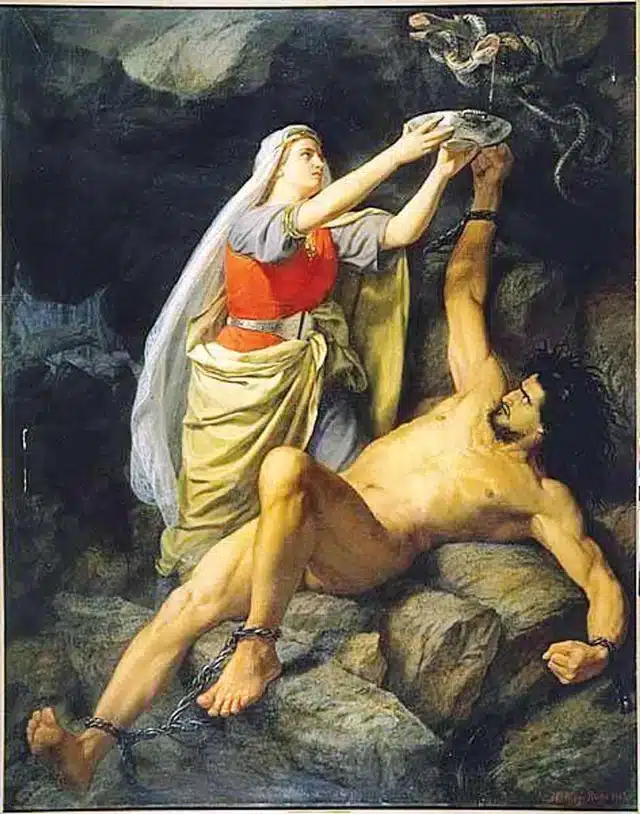 But the revenge doesn't stop there. The moon goddess Skadi forced the poisonous snake to hang above Loki. This creature will drip venom into the god. Fortunately for Loki, the goddess Sigyn used the dish to collect all the drops of venom for her husband. Every time Sigyn had to turn to pour venom on the plate, Loki was hit by a few drops of venom from the snake and it caused the god to scream to the point of causing an earthquake.
Odin gouged out his own eyes to gain knowledge
In Norse mythology, there is nothing more sacred than Yggdrasil, the World Tree. It binds the nine worlds together and Ragnarok takes place only to end its existence. However, it also promises to bring to those who sincerely seek limitless knowledge. The god Odin, always in search of knowledge, travels to the roots of Yggdrasil to find Mimir, a shadow figure who knows the flow of time (akin to Fates in Greek mythology).
Mimir guards the Well of Urd or the Well of Destiny, and Odin realizes that drinking from it will help the god know of some impending event. In some stories, Odin is said to be looking for information about Ragnarok. For some reason, Mimir asked Odin to sacrifice an eye in order to drink the well water. Odin agreed. Without any help, the god gouged out his own eyes and threw him into the well.
Hadingus watched his lover being torn apart by a giant
Hadingus and Harthgrepa had a rather strange relationship: Harthgrepa was the female giant who raised Hadingus – an ordinary human. When Hadingus grew up, Harthgrepa volunteered to be his lover. At the same time, Harthgrepa revealed that she could change the size and shape of her body to be with him. They went on a trip together.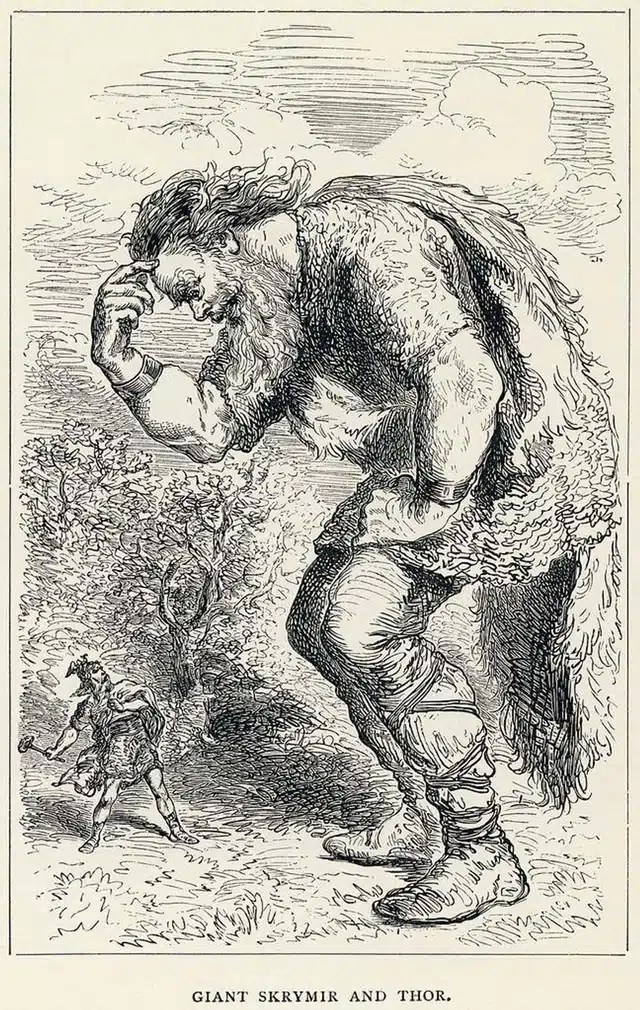 Tragedy struck when Harthgrepa used magic to save his lover from the attack of a mysterious giant hand. She returned to her large form to wrestle with the hand, severing it at the same time. In doing so, Harthgrepa betrayed her fellow human beings, so she was torn apart by a group of giants. Hadingus witnessed this whole gruesome scene. However, he quickly overcame the pain and started a new adventure.
Vanir beheads Mimir after feeling betrayed during final negotiations over conflict with Aesir
The conflict between Aesir and Vanir is never ending and inconclusive. Tired of war, they called for an armistice and, by tradition, sent hostages to their opponents to force both sides to behave. Vanir receives the Hoenir and the oracle Mimir.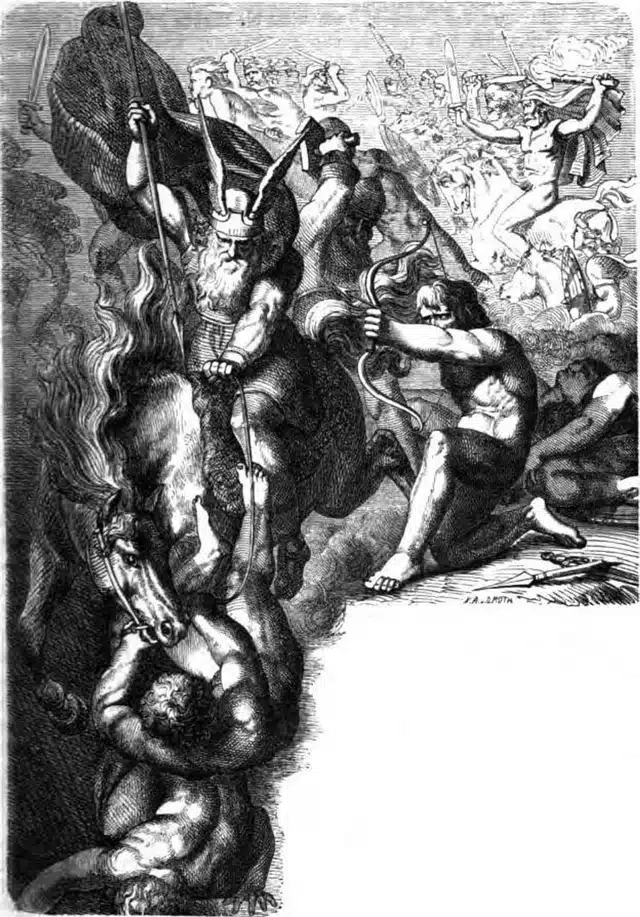 Hoenir has the ability to give great advice, but only when Mimir is around. However, the Vanir gods did not know this and became enraged when Hoenir suddenly became useless. They decided to cut off Mimir's head and send it back to Odin to show their displeasure. Odin, knowing that Vanir had mistakenly killed the real oracle, used magic to keep Mimir's head alive. Thanks to that, the god received a lot of useful advice from Mimir for a long time later.
Wolf Fenrir bit off Tyr's hand
Fenrir Wolf is one of the children of the god Loki. It is predicted to be the opponent to finish Odin in Ragnarok. So, to guard Fenrir, the gods decided to raise it in Asgard. However, because Fenrir grew so fast, the gods had to chain it.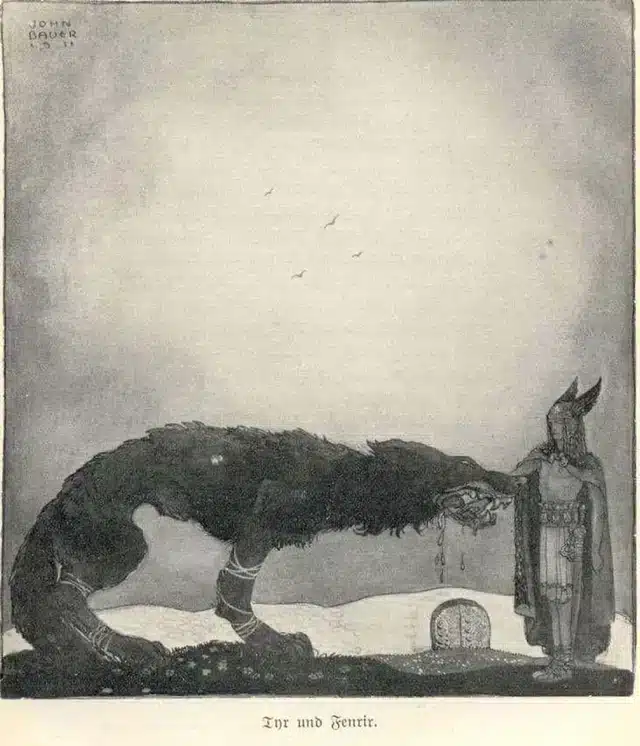 They tricked him into trying a few chains, but failed each time because the wolf was too strong. In the end, they decided to ask the dwarves to forge a magical chain to keep Fenrir at bay. The wolf was suspicious when he saw the chain. He then made the condition that they would only let them try the chain if a god put his hand in his mouth as a pledge. Tyr was the only god who had the courage to do Fenrir's terms. When the wolf discovered he had been tricked, he struggled and bit off Tyr's arm.